Independent Living puts The Hydrant in their wish list for the must have wheelchair accessories
Disability and independence: 7 wheelchair accessories… the wish list!
Frances Leckie, editor Independent Living, responds to readers' requests for those elusive wheelchair accessories that could make life that much easier…
#DHGurus
In my last article for Disability Horizons, I wrote about wheelchair accessories, and invited you to get in touch with your ideas about gadgets and gizmos to make life on wheels easier. For a number of people, more fun seems to have been the main requirement – champagne bottle holder, anyone?
This request seems so obvious, I couldn't believe that it isn't yet available. How do you know where you're going, if you are reversing? In a car, on a motorbike, on a mobility scooter – even on a pushbike – the answer is rearview mirrors. But apparently, power chair users are expected to have superhuman vision that enables them to see through the backrest to whatever they are about to squash as they head confidently backwards.
As one correspondent noted, her brother was not only causing havoc in the residential home where he lives, but was also extremely nervous about venturing out in his chair because of not being able to see where he was going when he needed to reverse.
People based in the United States can buy add-on rearview mirrors, but it would be quite a risk to order them for international delivery, without knowing whether they would fit… For intrepid DIYers, instructions for hacking your own can be found. Bon courage!
Walking stick and crutch holders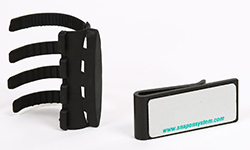 Magnetic holder from Manage at Home can be used to fix walking sticks or crutches to any suitable metallic surface
Several people asked about accessories to hold walking sticks and crutches – essential for anyone who doesn't use a chair 100% of the time.
There are a few options available, for either one or two sticks. They generally fit onto the tubular frame of the chair, and may use Velcro to hold the sticks in place. If you have a suitable spot on your chair to park it, there are magnetic holders which attach to the stick(s) and then hold them securely to any metallic surface. This won't work with lightweight aluminium chairs, of course, only steel ones.
You can also find wheelchair bags that also include a pocket for crutches and walking sticks.
Bags that aren't "granny-style"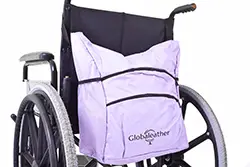 Stylish Globaleather wheelchair carry bag in lilac
This one is slightly less of a challenge than it used to be! If you Google for "stylish wheelchair bags", you will find colourful ranges from various online mobility retailers.
Honourable mentions go to Globaleather for their wheelchair carry bags, which are available in lilac, bright blue and red, as well as the usual black, and include some nice design feature.
Honourable mentions also go to Able2, whose Splash bags may be utilitarian in style, but come in some great colours, including pink and yellow.
Perhaps not surprising after the summer we have just experienced that a wheelchair umbrella made it onto the wish list. I found a couple of alternatives: the Hands-Free Brolly and the Wheely Brella. In both cases, the principle is the same – a specially designed clamp fixes to the frame of the wheelchair, and the umbrella is quickly attached and removed as necessary. You can store the umbrella in situ or remove it completely when it isn't being used. If the need should ever arise, both models will work equally effectively as a parasol!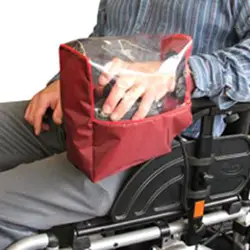 3. From Active Mobility, a waterproof "glove" for power chair users protects your hand and joystick control from the weather
Anyone with poor circulation knows how miserable you feel with cold hands, so whether you are a self-propeller or powerchair user, those extremities need keeping warm! Heated gloves have been around for a while, but improvements in battery technology and heating circuits mean that the latest designs are less bulky and keep you warm for longer. Rechargeable lithium batteries can provide up to eight hours of warmth, and there are gloves with leather or padded palms to give good protection for self-propelling. And while we're talking self-propelling, grippy push rim covers (which are available in a range of funky colours) provide some protection from the cold or heat of bare metal rims, as well as giving better push-ability. For most people, they probably won't take the place of gloves, to protect from blistering and friction burns.
Another rather neat variation on gloves, for power chair users this time. A special cover that fits either the left or right armrest, protecting the controls (and your hand!) from rain, with a clear view panel so that you can see what's going on, and a soft cuffed opening through which you put your hand.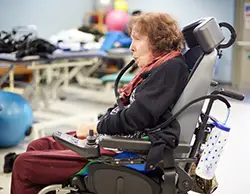 Hydrate for Health's Hydrant drinking system can be used hands-free
Several correspondents were in quest of drink-related accessories, from straightforward cupholders to rather more rarefied aspirations, such as a champagne bottle holder or espresso coffee maker – the latter, sadly not available as far as I can tell.
The good news for anyone looking to park their flat white or cappuccino on the way into work is that there are numerous cupholders available, which clamp to the tubular frame of the wheelchair and accommodate most sizes of drink container. It may even be possible to find one that will open wide enough to hold a bottle of bubbly. Beware, though, of some models that claim to be "universal", as they do not always live up to the description in reality. Best to deal with a retailer with specialist experience, rather than simply the cheapest offer on Amazon or eBay, and get confirmation in advance that the holder will fit your chair.
If you have limited use of your arms, a hands-free drinking system could be a boon. Systems such as DrinkUp or the Hydrant are available in travel versions which fit onto the frame of a wheelchair. A tube leads from the bottle of water or other liquid, and terminates in a bite valve positioned near your mouth. When you want to drink, simply bite down on the valve to open, and suck. The valve closes automatically when pressure is released, so that it doesn't leak.
RADAR key for admission to accessible loos around the country
After all that attention to hydration, probably a good moment to take care of the inevitable consequences, with something that might not attach to your chair, but is certainly an essential accessory: a RADAR key.
The National Key Scheme (NKS) provides access to disabled toilets via a universal key, so if you need an accessible loo, anywhere around Britain, better make sure you have it with you! There are approximately 9000 accessible public toilets in the scheme, in town centres, shopping malls, parks, stations, airports, visitor attractions, cafés and bars. They are kept locked to protect them from misuse and vandalism. You need to beware of fake keys, as non-originals may well not work, and ending up stuck outside a locked toilet door with a useless key is not the best way to find out. Many local authorities have the keys available for sale to people with a disability, otherwise a reputable mobility supplier should be able to help. Some have Braille marking for those with visual impairment, and an easy-turn, bow-shaped head, which is helpful if manual dexterity is limited.
And that's it for this wheelchair accessory wish list. For the chap – who had better remain anonymous – who was hoping to find a chair-mounted flamethrower, I think on balance I'm rather glad that I couldn't help with that one!
By Frances Leckie